Bastille is an indie band that formed in London in 2010. The current members are Dan, Kyle, Will, Charlie and Woody. They are named after Bastille Day, which happens to be lead singer, Dan Smith's, birthday.
Career
On July 4th, 2011, through the Young and Lost Club they released their first single, "Flaws"/"Icarus".[1] This was followed by the Laura Palmer EP in November.[2] They signed to Virgin Records that year and released their second single "Overjoyed" in April 2012. They released two more singles afterward, "Bad Blood" and "Flaws" and released two mixtapes called Other People's Heartache and Other People's Heartache Pt. II.
In late 2012, they announced details of their first album Bad Blood. They released "Pompeii" in January 2013, which did very well commercially and chart wise, and it has since gone platinum in the UK and platinum and gold in various other countries. Bad Blood was released in March 2013, and reached number one in the UK and the top 40 in various other countries. They released a couple more singles, and then re-issued Bad Blood as All This Bad Blood with a second CD with B sides and new songs on it. In February 2014, the band won Best Breakthrough Act at the Brit Awards and were nominated for three others.
They are currently working on their second album, and have played new songs at shows including "Blame" and "Campus", which Dan says he wants to put on the next album. They are going to release the last single from Bad Blood, "Oblivion", this year and a video was made for it in June and released in July 2014.
2009-2012: Formation and early work
2012-2014: Bad Blood
Main article: Bad Blood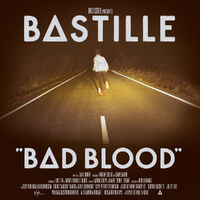 Bastille signed to Virgin Records in early 2012 and released their second single "Overjoyed", but due to little promotion for the single, it failed to chart. In early 2012, they also released the mixtape Other People's Heartache as a free download, which featured covers of various different songs. They began recording their debut album in June 2012, for which Dan Smith said, "We basically made the album in a studio the size of a cupboard, so it was one extreme to the other." They released a third single, "Bad Blood", in August 2012, which managed to chart a number 90 in the UK Singles Chart. In late 2012, they released Other People's Heartache Pt. II, and had finished recording their debut album, but were deciding on the tracklist. They re-released "Flaws" as a proper single in October 2012 on vinyl and digital download, and it managed to chart at number twenty-one on the UK Singles Chart. In support of the single's release, they headlined their short Flaws Tour.
Bad Blood was announced in January 2013, along with the track listing and the next single, "Pompeii". "Pompeii" was released on February 24th, 2013, on vinyl and as a digital download, and debuted at number two in the UK, as well as number five in the US. The single has been certified platinum in the UK, and double platinum in the US. Following this single, Bad Blood was released on March 4th, 2013, and managed to reach number one in the UK. Two more singles were released from the album which were "Laura Palmer" in June and "Things We Lost in the Fire" in August.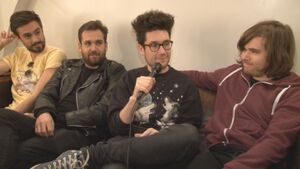 In May 2013, they released the US-only EP Haunt. Bastille joined Muse as a supporting act on their The 2nd Law Tour in May 2013 and did so again in June 2013.
Bad Blood was reissued on the November 25th, 2013, as a double album called All This Bad Blood. The first disc is a reissue of Bad Blood, and the second disc is split into two parts, titled All This Bad Blood and Other People's Heartache. All This Bad Blood contains four songs that were previously released as B-sides from the singles of Bad Blood.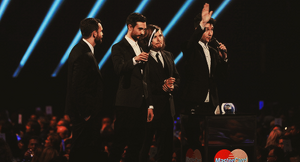 The band performed on Saturday Night Live on January 25th, 2014. In February 2014, Bastille won the BRIT Award for Best Breakthrough Act, as well as being nominated for Best British Group, Single of the Year for "Pompeii" and Album of the Year. They performed a remixed version of "Pompeii" with Rudimental and their song "Waiting All Night" at the ceremony, which was released digitally and charted at number twenty-one in the UK. Two hours after their appearance, sales of Bad Blood were up by 132% and "Pompeii" had climbed 29 places in the singles chart.[3] Bad Blood then climbed to number one again for two weeks, and has since gone double platinum.[4] "Oblivion" might be the next single from Bad Blood. A music video for the song was shot in June 2014.
2014: Second album
Main article: Wild World
Bastille began work on their second album in early 2014.[5] Also during this time, they started playing "Blame", "Campus", and "Weapon featuring Angel Haze" live. Dan said that they were going to begin recording the album in September 2014, planned for release in 2015. He also said that "Blame" and "Campus" "will definitely be on the next album".[6]
They also released a mixtape, in December 2014.[6] It was titled VS.,  with "Other People's Heartache Pt. III" as a sub-title. He said that the album was released when they were "allowed to release it". Dan said he was also planning to record an Annie Oakley Hanging album in 2014.[6]
Members
Current members
Touring members
Discography
Main article: Discography
References